Diary of June
2011
&nbsp
This picture was shot at June 8th 2011 showing Bibbi II at Brustholmarna, the GMS club harbour in the southern Gothenburg archipelago.
&nbsp
Wednesday 8th From Hinsholmen to Brustholmarna
Ingrid and I spent most of the day fixing things at home and packing the last things. In the afternoon Anders came to drive us to the boat.
We stopped to buy food and soon came to the boat.
When we had packed everything on board we made the short tour to our club harbour at Brustholmarna where our friend Jerker greeted us welcome.
We spent the evening on board and it was quiet and peaceful.
Thursday 9th From Brustholmarna to Hinsholmen
When we cooked dinner last night, the kitchen broke down. This morning I dismounted the kitchen and tried to find someone who could help me. Found a guy in Onsala. So we left Brustholmarna, fetched a car at home and drove off to get it fixed.
I was back onboard at 10 in the evening and brought pizzas for dinner.
Friday 10th From Hinsholmen to Brustholmarna
In the morning I fixed the stove onboard while Ingrid drove our car back home and returned via bus and tram. As soon as she was back we left Hinsholmen and sailed first to Styrsö Tången to get fuel and after that to Brustholmarna to stay there til tomorrow waiting for fair weather for the crossing to Denmark.
We had a nice evening with our friends there.
| | |
| --- | --- |
| | |
| Brustholmarna | Brustholmarna |
Saturday 11th From Brustholmarna to Anholt
We left Brustholmarna after breakfast and turned south. When we left the archipelago we had a steady course east of Läsö and west of Anholt aiming at Bönnerup at Jylland, just a bit north of Grenaa.
But!
When we were south of Läsö with Anholt to the east, the engine stopped. I feared that the main tank was empty, so I pumped diesel from the other tank and tried to start the engine again. It would not start whatever I tried.
Tried our mobile phones to get help, but no connection. Called Lyngby Radio on the VHF.
They called Anholt Reddningsstation that sent a boat that picked us up and took us to Anholt.
No drama whatsoever.
After a couple of hours we moored along in the harbour for safetyships and our helpers called a man that promised to come and help us in the morning.
It was rather late and Ingrid was hungry so we went ashore and found a restuarant for dinner.
| | |
| --- | --- |
| | |
| Anholt | Anholt |
Sunday 12th From Anholt to Grenaa
After breakfest Ingrid went for a walk on the island, while I waited for the serviceman to come. It took him some time to find out that the engine did not get any fuel, and neither did the fuel filter! He tried to blow through the inlet pipe but it was filled with something so neither air nor fuel could come through.
He went to get an aircompressor and when he used that, something really happed!
After that he easily got the engine running.
When Ingrid - exhausted - came back onboard, we moved over to another bridge for filling diesel.
As soon as diesel was filled we left Anholt and turned southwards aiming at Grenaa.
The trip was more bumpy than we had expected. There was not much wind, but the waves were rather high and we sailed against them.
After four hours we reached Grenaa and stopped there for the night.
Last time we visited Grenaa with our boat, back in 1998, we had to wait there several days for better weather. We hope we can leave this town tomorrow . . .
Monday 13th From Grenaa to Ballen på Samsö
We left Grenaa fairly early and followed the coast closely. There was not much wind, but the waves were short and looked more like in winds at about ms. At times it was rather bumpy.
During the last leg of the trip, east of Samsö, it was very bumpy and we also had some rain.
When we finally reached Ballen harbour there was plenty och places to choose between and we choosed a very nice alongside the northern pier. Aftor mooring we left the boat immediately for a walk ashore to pay the harbour due and to look around.
We decided to look for a restaurant and found a nice one in an old skippers house and ordered the day's special meal, a nice fish filé.

| | | |
| --- | --- | --- |
| | | |
| The harbour in Ballen | The harbour in Ballen | The harbour in Ballen |
Tuesday 14th From Ballen to Nyborg at Fyn
We started with filling fuel and then breakfast and some shopping.
After that we left Ballen heading south.
It was a nice trip south along the coast until we reached the gap between Samsö and Fyn. There the waves were rather nasty at times. Soon we were in sheltered waters again and came to the impressing bridge over Stora Bält.
We found a place to moor in the pleasureboat harbour along with quite a few German and Dutch boats.
Nice and peaceful.

| | | | |
| --- | --- | --- | --- |
| | | | |
| In Nyborg | In Nyborg | View from Bibbi towards the fairway | In the city center |
Wednesday 15th From Nyborg to Bagenkop
This was one of those days!
Nice weather. No wind. Lots to see along the route!
In the morning we walked into the city center to get some cash. We saw the church and some other old buildings and after that Ingrid went to see some shops while I walked out to the eastern parts of the harbour to see the canal there. I took some photografs for my canal-site.
We left our mooring and aimed at the fuelling station. Filled our tanks and left Nyborg.
We had a very nice trip down the sound between Fyn and Langeland. Lots of boats of all kinds around and lots of nice views all the time.
Ingrid made sandwiches en route and we both enjoyed the tour very much.
At the end of the trip, by the Aerö island, we saw a lot of big old sailingships. Most of them were heading for Marstal at Aerö, probably for some meeting.
Finally we reached Bagenkop at the southern tip of Langeland. We choosed this harbour as a perfect start for the crossing of Fehmarn Belt to reach Fehmarn in Germany.
When paying the dues at the harbour office we saw the forecast which promised fairly good weather for tomorrow, but stronger winds for Friday. So hopefully we will be able to get off tomorrow . . .

| | | |
| --- | --- | --- |
| | | |
| "Christmas tree" showing the way! | Ingrid at the top of the tower | Picture of Bibbi from that tower |
Thursday 16th From Bagenkop to Heiligenhafen
This was anotherone of those days!
We left Bagenkop fairly early and had a fairly good crossing. A bit bumpy at times. A lot of water splashing over the boat. But also a lot of boats to whatch out for.
So, if not immensely pleasant - at least quite interesting!
That is, until we almost had got over the Fehmarn Belt and was heading into the Fehmarn Sund. That´s when the engine stopped! Once again!
This time I was sure and cold see that there was diesel in the tank. I tried to handpump diesel into the engine to no avail.
Left med with no alternative other than call for help.
Made a call on VHF canal 16 to Lübeck Radio, but was adviced to use canal 24. When they finally answered they could not help me, and they did not even know where I could find help. Someone else on the canal adviced me to call "SAR Rescuecenter" on canal 16. There I found immediate help.
After a few minutes a pilot-boat came to assist by me, and quite soon a rescueboat arrived to take us to the harbour in Heiligenhafen.
They pulled us into a yachtharbour with a shipsyard next door. One of the rescuepeople followed me to the boss there and asked for help:
- Not today! was the answer.
Tomorrow is fine with me, I answered.
- I'll be with you at 9 tomorrow, he said, and we had a deal.
During the evening we had a few rainshowers, but it was a nice evening anyway. Fairly warm, at least on board.

| | | |
| --- | --- | --- |
| | | |
| Bibbi being helped | Amazing building by the entrance to Heiligenhafen | Bibbi II in one of the yachtharbours of Heiligenhafen |
Friday 17th
We stayed in Heiligenhafen all day. We actually had no choise! The man from the shipsyard came to us in the morning. He started with taking all the air out of the dieselsystem. After that the engine started but it did not run well.
We had no alternative. We had to take all diesel and dirt out of our two tanks. 100 liter diesel infected by microbs and dirt! Just to throw away!
They found 60 liter fresh and fine diesel, then once again cleaning the system from air and after that the engine started and ran very nice, at all speeds! Very nice!
But the operation had lasted all day and it was too late for us to leave Heiligenhafen.
We went to a shop nearby to get some food and had dinner onboard. Hoping for better weather tomorrow.
| | | |
| --- | --- | --- |
| | | |
| Swedish flag in the harbour! | Swallow's nest | Holger and his man empties the dieseltank |
Saturday 18th
Yesterday the forecast for today was fairly good, but this morning is was rather bad. Up to 10 ms from east. If we had left for Lübeck we would the the wind from aside and that is just about the worst that can happen.
So we had to stay in Heiligenhafen another day. The weather was quite good som we went for a long walk.
First into the city center and then out on the Graswarder, the nature preserve area. It was very interesting with all the different kind of birds, and the old houses.
Back in town we had lunch at a pub by the square and then went back to the boat.
We spent the afternoon lazying in the hot weather.

| | | |
| --- | --- | --- |
| | | |
| Very, very small boat in big harbour | Cows at Graswarder with big harbour in background | Ingrid by Haus Ingrid! |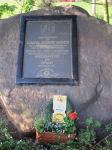 By the sailing school next to "our" harbour I found this memorial stone for the man who invented the grogg!
Sunday 19th
Strong eastern winds all day so we had to stay in Heiligenhafen, but we moved over to the bunkerstation in the big yachharbour. A very short trip in sheltered waters.
It took much too long time to fill the spare tank with 100 litres . . .
When we got back to "our" harbour I managed to fix a bypass for the airoutlet from the sparetank, which hopefully will make filling it both easier and faster.
Late in the afternoon the wind changed from east to west. This will most likely make it possible for us to go to Lübeck, or at least Travemünde tomorrow.
We had several heavy rainshowers during the day.
Monday 20th
This morning the wind had decreased, but not much. So we decided to wait until after lunch with departure. But even then the decrease was not enough, so we decided to stay another night here. During the afternoon the wind decreased quite a lot so we hope for departure tomorrow.
We walked up to town twice during the day and there were a few short rainshowers. They did not disturb us much. In fact we had a nice lazy day in Heiligenhafen.
Tuesday 21st
We got really chocked when we woke up this morning. The sun was shining, no chill in the air, no wind at all and so no waves on the sea!
We decided to start as soon as possible. In fact, already last evening, we decided to get an early breakfast. We only succeeded to get it about half an hour than usual, but we made it short, and we had cleared the boat for leaving more then an hour faster than usual. So we managed to leave much earlier than usual. Along with us almost all guesting boats left Heiligehafen early this morning. In fact there was a qeue to get into the narrow fairway out of harbour and almost qeue to pass the Fehmarn bridge and definately qeue through the narrow fairway on the easten side of that bridge.
But we got through and as we turned south towards Lübeck most of the others turned to northeast to reach the Danish islands or continued eastwards towards the Rügen area.
We got a couple of hours of sun and sea without wind and waves, but at noon it became cloudy and we had a few light rainshowers during the afternoon.
In the aftenoon we reached Travemünde, found a fillingstation and fuelled up. For the first time this summer my workaround for letting air out of the tank worked great.
From Travemünde we continued to Lübeck and found a free place in he harbour belonging to The Lübecker Motorboot Club, very nice and peaceful.
In the evenung went for a walk and dinner, stopped by at the club-house and decided to stay there. Fairly OK pub-food.
Long row of boats in the eastern fairway
from the Fehmarn bridge

Small private fishingharbour in Gothmund

Small birds sleeping on a bridge
Wednesday 22nd
We had a rather lazy day in Lübeck. Walked into town. Had coffee at the touristoffice and lunch at a café by the town hall. It was warm and nice all day. We shopped a few things and looked around.
Back on board we had dinner with peasoup and Swedish punsch.
I tested the internet-connection I had bought in town. It worked! But after only a few minutes it closed the connection stateing that I had used all MB:s and had to pay more to continue. And I had payed for one months unlimited connection in Germany!
There was only one thing I could do about it - get back to the shop tomorrow and let them fix it! The weather was very good all day - hot sun! But in the evening there were a couple of heavy rainshowers.
Thursday 23rd
We had planned to leave Lübeck in the morning, but I had to get back to the shop to fix my internet connection. It took them almost an hour to fix it, so I'm glad I did not try myself. But Ingrid, who waited outside, was not very happy!
When the internet connection worked OK it was already time for lunch, which we once again had at the town square.
Yesterday we missed the Niederegger shop, so we payed it a visit today.
Back on the boat again we realised that it was actually too late to leave Lübeck. I spent the afternoon uploading pictures and pages. Ingrid and I read our mail, and so on and soon enough it was time for dinner and finally bedtime.
| | | |
| --- | --- | --- |
| | | |
| Ingrid enjoying lunch with a beer | From Bibbi we can always see a lot of rowingboats, canoes and "dragonboats". | Interesting fountain in town |
Friday 24th, celebrated as Midsommer Eve in Sweden
We left Lübeck early, well for us it was early :-)
Heading south on the Elbe - Lübeck canal we soon reached the first lock at Berkenthin, were we had to wait for a convoy of boats from Lübecker Motorboat Club to come further!
Did not really matter. The speed in the canal is limited to 6 km/hour, so there is no need to hurry.
As always when Bibbi II is on canals with locks, it rained in every second lock! But we are used to it.
The canal passed through a very nice landscape and the trip was pleasant.
We decided to stay in Mölln, half way through this canal. We walked around town and bought food for the weekend on the way back to the harbour.

| | | |
| --- | --- | --- |
| | | |
| Ingrid steadily holding the boat in a lock | A bunch of boats från Lübecker Motorboot Club ahead of us. | Bibbi II in Mölln |
Saturday 25th, Midsommer day
We left Mölln fairly early. We had to wait a while at the two locks we passed, and we ran dead slow when we passed the little line-ferry at Siebenachten.
There was no rain during the days trip, but we got a few raindrops in the evening.
We did have some trouble with rowing boats today! They were too many! At one time we met thres side by side and at the same time some rowers heading the same direction as us close in front and close back of us.
We stopped for the night in Lauenburg for a reason - Bosse wanted to see and take photos of the Palm-lock. The oldest chamber-lock in Europe. Built in the late 14th century. The canal is gone now, but this lock is still there.
So as soon as we had moored in Lauenburg we walked a few kilometers to the Palmschleusse. It was amazing to see such an old construction i such a good condition. Sure, the woodworks were all gone, but the stonework was as new! We had a quiet evening on board.
Ingrid whatching boats coming up in the lock at Berhentin

There was a lot ow rowingboats on the canal today

Palmschleusse in Lauenberg, the oldest chamber-lock in Europe.
Not in use but well preserved.
Sunday 26th
It was a very misty morning and rather cold too. We left our harbour early and sailed to a harbour only a few minutes away to fuel up. From there the days adventure strated for real.
We sailed down the Elbe river. But not for long. The Elbe-Seiten Canal starts only about four kilometers from the harbour we stayed in. Did not take long to get there.
On this canal we soon reached the the shipslift in Scharnebeck and found many ships there waiting to be lifted. We had to wait more than two hours to get in the lift and continue our trip.
We continued sailing about three hours and found a nice place in the harbour of Yachtingclub Uelzen.
It was very warm in the afternoon and evening. It was hard to find shelter. We had a nice evening.

| | | | |
| --- | --- | --- | --- |
| | | | |
| All these flags! What are they for? | The shipslift i Scharnebeck | Bibbi von oben! | Bibbi in the harbour of Uelzen. |
Monday 27th
We had a long day at the canals. With sun and heat but no cooling wind and no shadow to find on board. But it was nice for a change.
Soon we reached the lock of Uelzen and we did not have to wait long to come in together with a big barge and another pleasureboat. It was a lift of 23 meters.
Soon we caught up with a barge and hanged on to him until we reached the Mittelland canal were he turned left and we turned right.
We spent some more hours on the canal as we did not easily find a nice harbour to stay in. But finally we reached the zweigkanal to Salzgitter and there the Yachthafen Heidanker in Wedtlenstedt.
As we arrived rather late and the fridge was practically empty, we looked forward to have dinner in the harbour restaurant - but closed on Mondays!
But the nice girl on the neighbouring boat, German girl who speaks very good Norwegian! told us how to get pizzas delivered to the boat.
We realy enjoyed the pizzas and the harbour and went to bed early.
| | | | |
| --- | --- | --- | --- |
| | | | |
| Ingrid holds the boat in the lock | Along the Elbe-Seiten Kanal | Along the Zweigkanal Salzgitter | The Yachthafen Heidanker in Wedtlenstedt. |
Tuesday 28th
It was hot on the canal yesterday, and got even hotter today!
But it was a pleasant day too. We sailed along and wanted to find a place to stop and buy food. The first place we found was the Hannoverisch Motorboot Clubs harbour in the Misburger sidecanal. We sailed in there and was very well attended by the Hafenmeister who treated us bicycles and told us how to find food and cash.
So we cycled off and easily found the first shop. Here we bought food for a couple of days. While Ingrid went back to the boat, I cycled in the opposite direction to find cash.
When we both were back on board we had dinner and after that I spent the afternoon in shadow ashore while Ingrid was reading on board.
I also spent some time with the harfenmeister and other members and got some tips for the trip ahead.
| | | | |
| --- | --- | --- | --- |
| | | | |
| A barge passes on the canal outside the harbour | Along the Mittelland canal | Meeting a nice boat on the canal | The church of Misenburg, the suburd of Hannover were we stoped for the night. |
Wednesday 29th
Another hot day on the canal. But fortunately not quite as hot as yesterday. There were clouds to soften the heat. And when we reached Minden we got some heavy rainshowers too.
Soon after we had moored in the Hahler Hafen in Minden we saw little Russian tenderboat coming into the same harbour for the night.
Before preparing dinner I walked over to talk to the captain onboard, Viktor.
Read more about him here.

We had a rather nice day on the canal. Warm. But not as hot as yeterday. Anyway, it was so hot that I handed over the rudder to Ingrid after a couple of hours and jumped into the canal to cool off.
Thats was really nice :-)

We continued towards Minden. Had heard about a new pleasureboat harbour on the eastern side of Minden. We could not see it.
When we got to the aqueduct over river Weser it started to rain heavily so when we got to the other side of the aqueduct Ingrid refused to help me with landing in the city center.
We continued along the canal ans as soon as we had come through the city center the rain stopped and quite soon we foubd a nice harbour belongin to Mindener Yacht-Club where we stopped for the night.
A lot of boats arrived at the same time as we did. One from the UK, one from Switzerland, two from the Netherlands, one from Denmark, a couple of boats from Germany and finally Viktor from Russia, mentioned above!

We had a nice evening. After dinner Ingrid wanted to read and I walked a while in the suroundings. I did not find the supermarked the harbourmaster had pointed out.
400 meters to the left, he said.
I walked at least a thousand meters to the left and a thousand meters to the right, but no supermarket!
But it was a nice walk . . .
| | | | |
| --- | --- | --- | --- |
| | | | |
| Beautiful view along the canal | Boys jumping into the canal | Rain while on the Minden aqueduct | Rain in the harbour during dinner |
Thursday 31st
We started the day with shopping food at a nearby supermarket.
Finally we left Minden and had a very calm and nice day along the canal. It was a very nice part of the canal with many small villages and some harbours.
We passed a finnish sailing boat during the day.
We also saw a lot of birds and a herd of sheep and goats.
We stopped at Osnabrucker Motor Yacht Club for the night. It's a nice and calm harbour. The hafenmeister helped us to get fuel.
| | | | |
| --- | --- | --- | --- |
| | | | |
| Sleeping ducks | A herd of goats and sheep | Bridges and boats along the canal | Nice house beside the canal |
&nbsp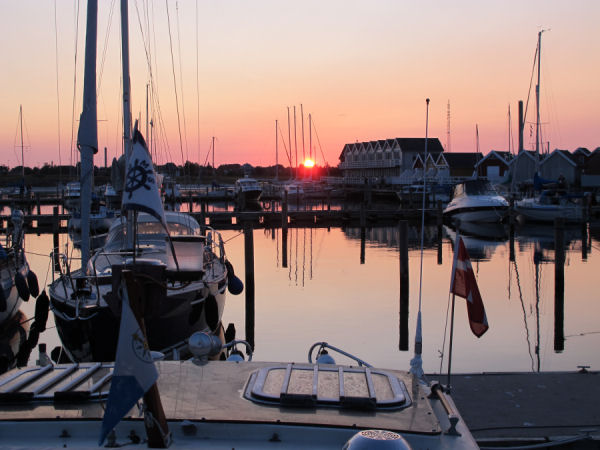 Sunset in Grenaa yachtharbour.

&nbsp
&nbsp