Boats we've seen during the trip
Brustholmarna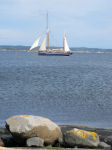 Old sailor passes
Anholt
| | |
| --- | --- |
| | |
| Fishingboats | Rescueboats |
Ballen at Samsö
Mytilus
Nyborg at Fyn
| | |
| --- | --- |
| | |
| Rowingboats | Old sailor passes |
Outside Marstal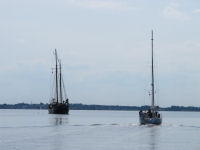 Swimmers!
Bagenkop
| | |
| --- | --- |
| | |
| Dutch boat in the harbour | Harbour overview |
Fehmarnsund
| | |
| --- | --- |
| | |
| Pilotboat | Resueboat |
Heiligenhafen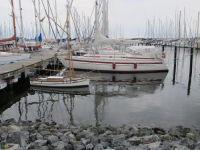 A very, very small boat!
Lauenburg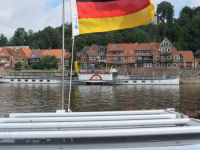 Kaiser Vilhelm in the museum-harbour
Mittelandkanal, June 27th, 28th and 29th
and in Brussels, July 27th
This little tenderboat we saw and passed on Mittelland kanal on June 27th, June 28th and again on June 29th when it entered the harbour just as we had moored.
The captain onbord, Viktor, uses a rather cosy way of enjoying the European canals!
We saw him once again in the Bruxelles Royal Yacht Club on July 27th.
Read more about him here!

Mittellandkanal, June 29th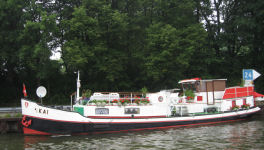 In Minden we saw this nice boat with a lot of flowers on deck
Mittelland kanal, June 29th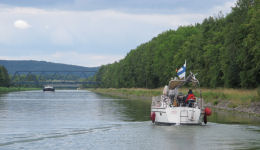 During todays session on the Mittelland kanal we overtook this Finish sailingboat.
Osnabrück side kanal, the OMYC harbour, June 29th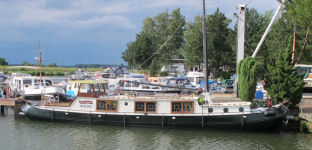 Marie-Marie in the OMYC-harbour in the Osnabrück sidecanal. A very nice looking boat. Many exclusive features and very well kept.
Marina Alte Fahrt Fuestrup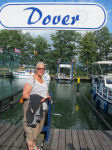 Ingrid inspekts the tiny hand-drivven ferry over the Alte Fahrt Fuestrup.
Henrichenburg in Datteln
Dragon-boat in the harbour on the lower side of the old lock in Henrichenburg
On river Maas
Banana-boat with young girls
On Zuidwillemsvart
Extremely small fishingboat on Zuidwillemsvaart!
Upstreams the lock of Lanaye, were Julianakanaal meets Albertskanaal
| | |
| --- | --- |
| | This very nice vikingship was waiting to get into the lock to come further downstreams |
Downstreams near the lock in Rivičre on the Meuse
| | |
| --- | --- |
| | This big steelboat was dug down in a big garden by the Meuse |
Between the locks in Rivičre and Hun on the Meuse
| | |
| --- | --- |
| | In a villge by the Meuse the youngsters really enjoyed riding this "thing"! |
At the bridge by the Château du Fre˙r
| | |
| --- | --- |
| | For the first time ever, here we saw this real car on a 'fairly' small pleasureboat. |
British narrowboat in Bellecourt, Seneffe. July the 18th
>In Port de Bellecourt in Seneffe we saw this genuine British narrowboat
Dutch hybrid-boat in Bellecourt, Seneffe. July the 24th
>In Port de Bellecourt in Seneffe we saw this unique Dutch hybrid-boat
What's this? Rotterdam, July 31st
>In a ships-yard we passed in the outrskirts of Rotterdam we saw this odd ship. Evidently a very specialist ship - but for what?
Boats as houses, Amsterdam, August 1st.
>I bostadsbristens Nederländerna är det vanligt att folk köper en gammal och bygger om den så att det blir en vettig bostad. En dag på kanalen såg vi hundratals sådana husbåtar som uppenbarlige fyllde sin funktion väh.
Boats and other "things" at/by the Prinses Margriet kanaal, August 3rd.
| | | | |
| --- | --- | --- | --- |
| | | | |
| Nice boats we meet or passed on the Prinses Maigriet kanaal | | | A funny Citroen in Sneek |
Boats and other "things" in Groningen and by the Winschoterdiep, August 5th.
| | |
| --- | --- |
| | |
| In Groningen there is always a party going on . . . | In Groningen there is always a party going on . . . |
| | | |
| --- | --- | --- |
| | | |
| Nice car in the Oosterhaven in Groningen | Barge at a warf along the Winschoterdiep | Barge at a warf along the Winschoterdiep |
Dortmund-Ems-kanal, August 10th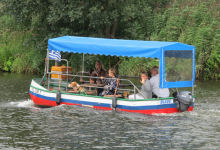 A greek boat on the Dortmund-Ems-Kanal
Yachtclub Hanse-Ems harbour, August 11th
A nice old Nimbus 26 in the harbour of Yachtclub Hanse-Ems
Free mooring-place by the Mittellandkanal, August 11th and 12th
A sailingboat of Belgian type, changed to a motorboat!
This was done when they decided not to sail out to the sea any more. They live in Maasstricht.
They have rebuilt the boat themselves in a very pratical way and they have done a very good job too!
In the MYC Lübbecke harbour near Minden on the Mittellandkanal, August 12th to 14th
Falcon, a very nice ship, in good shape too. The owner cares a lot about this boat for sure!
On river Weser, August 17th

A different kind of cable-ferry on river Weser

We also saw this official WSA-boat, controlling the depth of canal.
On river Weser, August 18th
| | | |
| --- | --- | --- |
| | | |
| A ferry cross the Weser | A rescue-boat on shore! | A fairly newbuilt boat of medivial type |
On river Lesum, August 22nd
We have seen this little rubbe-dinghy with a sun-roof several days. It sails downstreams when the tidal water runs out, and comes back shen the tidal water runs in. Does not use the engine!