Diary of July
2011
&nbsp
This picture was shot early in the morning of July 1st in the harbour of Osnabrücker Motor Yacht Club. These cows had their breakfast just outside the fence.
&nbsp
July 1st
This first day of July started very cool and with much dew. The boat and the bridge were soaking wet early in the morning and a lot of small insects were stuck on that dew. This was much appreciated by the small birds that helped me get rid och the insects!
We left Osnabrück after breakfast and had an easy trip along the Mittelland canal.BR> But the closer we got to Bergeshövede were Mittelland Canal meets the Dortmund-Ems canal, the traffic got more and more intensive. And it was even worse at the Dortmund-Ems kanal when we continued southwards.
We stopped for the day in the Marina Alte Fahrt Fuelstrup, an old arm of Ems, that is now a nice marina.
I visited this marina in 1998 on my 50th anniverary trip and liked it very much, so I wanted Ingrid to see it too. They have a litte cable ferry that is hand-drivven! All children love it.
Waiting for the harbourmaster Ingrid let the cock onboard have a free day and treated her husband to dinner at the gasthaus in the harbour.
After dinner we went to the harbourmaster and then went back to the boat where we spend the rest of the evening. Very late in the evening we had a heavy rainshower, otherways the weather was fine all day.
| | | | |
| --- | --- | --- | --- |
| | | | |
| A lot of bridges and barges at the Mittelland canal | Nice trees along the Mittelland canal | The Dortmund-Ems canal has been highly upgrated since 1998 when I was here last | Art warehouse near Minden. |
July 2nd
Another cold and wet morning. And we were surprised to have a duck-mother with her "babies" next to us in the harbour. They were not scared when we passed just above their heads to get our morning bread!
The tour today was much like the preceeding days. A wide canal that has newly been enlarged with only a few trees on the banks.
The Dortmund - Ems kanal has been widely enlarged since 1998 when I was here. And the traffic has increased a lot! Now we only had a few short moments without a barge or two ahead of us, or approaching us from ahead.
Well, the nature around the canal is not as nice as it was in 1998, but the newly planted trees will grow up! And it is nice to see and know that Germany, and some other countries, still develope and enlarge canals as a means of transport that is environmentally friendly.
The habour we leaft this morning was an early example of what could happen when a canal was enlarged. The Marina Alte Fahrt Fuestrup is situated in and old arm of the Dortmond - Ems canal. And the Motorboot Club Lüdenscheid harbour is located in the approach to the old, unused, shiffshebewerk Henrichenburg.
So both these harbours are located at historical places.
We choosed our night harbour only for our interest in history. unfortunately the shiffsheberwerk was closed when we arrived so we have to take our pictures tomorrow.
After dinner we arranged our pictures. Chatted a while before I walked to take photos of the hebewerk, but it was closed for the day. Have to get back tomorrow.
I also visited the club-house and was treated to a glass of beer there. It is always nice to chat with local boatpeople. I always find them very friendly and nice, like tonight.
Back on board I looked through todays crop of pictures and updated these pages and by than Saturday July 1st had become Sunday July 2nd!
| | | | |
| --- | --- | --- | --- |
| | | | |
| Young birds with mother found their morning rest next to our boat | We are passing river Ems on an aqueduct. In the background an old aqueduct over Ems. | Anglers are well equipped these days! | The Henrichenburg shipslift. |
July 3rd
Much warmer this morning - at least 15C!
Before breakfast I went to take some photos of the old lock. Also found and took photos of the new lock and the new shipslift.
After breakfast Ingrid and I walked to the old shipslift. We had to pay to entry the area and be able to take photos, but it was well worth the money.
We left the harbour as soon as we've got the pictures we wanted, aiming for Datteln and the Wesel - Datteln Canal. We had planned to buy fuel in Datteln, but saw a pleasureboat waiting get out on the canal, so we hanged on to him.
Very soon a barge came from the Dortmund - Ems canal and steared right to the first lock, which very soon opened the gate to let us in.
We had a nice and easy trip down the canal and passed three locks without trouble. But at the 4th lock, at Dorsten, we were not allowed to enter! A big barge was just arriving and taking "our" place in the lock.
But this station has two locks and another barge arrived, entered the second lock and the lock-master told us to enter the lock. We didn't have to wait that long.
It was rather late in the afternoon by then and we had already decided to stay in one of Dorstens harbours. We tested the first and found several free places and moored at one of them.
There was an odd mix on very big, well kept new boats and old rather shaggy ones in this harbour.
Same with the harbour, some things very good, others not.
| | | | |
| --- | --- | --- | --- |
| | | | |
| Getting close to the second lock on the canal | Ingrid is captain onboard! - sometimes . . . | We passed an immensely large area with chemical industries in Dorsten | Across the canal from our harbour there were several anglers this evening |
July 4th
Our first trip this morning was very short, about ten minutes! From the guestharbour to the harbour by the canal in the city center.
We needed to buy some food and shopped around among all the bakers, butchers, groceries and so on in this small town.
We really enjoyed it.
After the shopping we continued the trip. Next stop at the Hünxe lock and after that the Friedrichsfeld lock which took us down to the Rhine river level.
So after a three hour long trip we were off the canals for the time beeing and free to go whereever and whenever we want to.
The ship-traffic at The Rhine is very intense and in that way rather frightening.
There were often four ships besides each others leaving small margines between them.
As soon as we got out into the Rhine we decided to go to the first guestharbour, Yacht-Club Weser and spend the night there, as it was rather late in the afternoon.
Impressive harbour with at least three different boatclubs and a nearby lake for recreational activities. The whole area is well maintained and very quite - except for the crows in the high trees. They held a concert late in the evening!
| | | | |
| --- | --- | --- | --- |
| | | | |
| Ingrid and Bibbi in the Dorsten center harbor | In the Friedrichsheld lock, the last before the Rhine | In the Friedrichsheld lock, the last before the Rhine | At the Rhine |
July 5th
We left Wesel fairly early and stopped in Toldkamer, the first Dutch harbour to buy diesel. From there we continued on the Rhine that changes name to Waal in the Netherlands.
After an hour or so, in Nijmegen, we entered a canal heading south. This canal lead us to river Maas.
Here we stopped in the first harbour we could find. It is located on a little island, Minden, between canals and rivers. By the entrance of the area there were some big and noisy factories, but when we had passed them it was a calm and peaceful paradise!
It was warm, or rather hot, the whole day, so we were tired when we arrived. We did not manage to cock dinner, but there was a quite nice reastaurant a few 100 meters away.
| | | | |
| --- | --- | --- | --- |
| | | | |
| At times Rhine was as calm as on this picture, but most of the time it was rather big waves | An old electric plant has been reused as an amusement park | In our first lock in the Netherlands | In the Jagt Hafen Brasker in Linden/Cuijk by Maas river south of Nijmegen. |
July 6th
A rather fine, but windy, morning.
After breakfast we left Linden and turned on to river Maas westwards.
We had a nice and easy tour. Quite a lot to see along the river and only two locks. The only disruption were all the cable-ferries. All of them choosed to start their tours across the river when we showed up!
Our goal for the day was 's-Hertogenbosch and we managed to get there.
We did not have to wait outside the entrance-lock and it was a very charming canal into town.
We first tried to moor just outside town at a sailing-club, but it was more than full already, so we continued into the town centre.
Found a mooringplace in the centre and thanks to that I got a chance to stroll along in this nice town.
| | | | |
| --- | --- | --- | --- |
| | | | |
| Together with a barge we left our harbour | One of the windmills we saw along Maas today | One of many small ferries across the Maas | St. Andries or Maas, difficult decision for the cows . . . |
July 7th
We were lucky this morning. When we came to the first lock three pleasureboats were waiting and a barge was in the lock from the opposite direction. Sure we had to wait a while to get in, but not very long.
We followed the others boats until the next lock and a bit further, but in Veghel we had been told there was diesel for boats so we stopped and searched.
Of course there was no diesel, but when we found out that, it was so hot that we just could not go any further . . .
Instead we walked up to town and found a full featured centre with hundreds of shops. We bought fresh fish for dinner, a bit of cheese and some other things. Before we returned to the boat we enjoyed an icecream too.
The boat was immensely hot when we got back so we had a lazy afternoon before dinner.
| | | | |
| --- | --- | --- | --- |
| | | | |
| Four pleasureboats in convoj on the canal | Very different bridgeconstruction: Look at the pillars and downside och the bridge. There are no sharp corners anywhere. | Somethings has happened to the church. Only the tower is left! | The pleasureboat harbour in Veghel. Bibbi in the far right corner. |
July 8th
Our aim for the day was to find diesel. The only safe option was Maasbracht, so we went there.
It was a very nice trip on a calm canal, Zuidwilliamsvart, and we followed a boat registered in Maasbracht with German flag and crue, and a barge registered in The Netherlands. We didn't have to wait at any lock or bridge so it always good to have a professional barge in the convoy.
However this trip of 34 NM took us about 9 hours. But it was a nice and calm day on the canal. Nothing to worry about. The sun was shining most of the day, interrupted by only one or two short rainshowers.
When we got to Maasbracht the harbourmasters wife greeted us on the bridge and helped us moor. She gave us electricity on board and let me in to the toilets.
After dinner the harbourmaster showed up. It was time to pay.
He only understood the Dutch language so we had some troubles. And when I asked him about fuelling along the different canals he asked a man on our neighbouring boat for help! This Dutch man, from the town we left this morning, and I are on the same level when it comes to speaking English, so I learnt a lot from him about different canals, were to get fuel, and all the paces worth to visit.
Following his advice we may stay in this area for ever!
No, but we got some ideas that may change our original plans dramatically!
Let's see how it all works out :-)
| | | | |
| --- | --- | --- | --- |
| | | | |
| Leaving the nice harbour of Veghel behind us | One of the many locks we passed today | It was a long and nice trip on the canal today | Can you you see the bird hidden in the picture? |
July 9th
We were a bit late with breakfast this morning, as the fresh bread was not delivered until 9 o'clock. But that did not matter. Ingrid wisited the shower while we waited and I strolled aroung in the harbour.
The first thing to do after leaving was to fuel up diesel and fill water.
We had a nice tour along the Juliana canal from Maasbracht to Maastricht. At some stretches the canal was wide and at other stretches very narrow. At some places with narrow bends. So it was an interesting tour all day.
There were three locks. But the last on was open so, no waiting, and we could get through at full speed. Nice for a change!
To find a nice and peaceful harbour in Maastricht we had to pass through the whole town. We finally moored in Jachthaven Pietersplas.
| | | | |
| --- | --- | --- | --- |
| | | | |
| Leaving the nice harbour of Veghel behind us | One of the many locks we passed today | It was a long and nice trip on the canal today | Can you you see the bird hidden in the picture? |
July 10th
We started fairly early in the morning and got to the first lock in Lanaye just about when everybody was waiting to get into the lock prepared to join them.
That is why we did not moore and walked up to the lockoffice for registering.
Instead we did register after we had left the lock just about an hour later.
After regestering we continued westwards on the Albert canal and as we had been told it was a rather boring part of the canal.
Nothing much to se, and very few boats to admire, but . . .
When we got inte Liege we first noticed it was a carnival going on there, so we opted out the first guestharbour located way to near the festival area.
We continued into the city center and the "Port de yachts Liege". This is close to the historical centre of Liege, which suits us well.
Directly after mooring we went to the restaurant in the harbour and ordered Moules meuniers.
We were not dissapointed! Even though the mussles were small they teasted very good and of course we had many more of them than usual.
We rested a while time onboard and then went for a wwalk in th historicale part of the city. Rather nice. A lot of people out and quite a lot to see.
Stopepd for a beer and a glas of white wine before we returned to Bibbi to finish the day in a peaceful mannor.
| | | | |
| --- | --- | --- | --- |
| | | | |
| Very tight in the lock of Lanaye | One of the many bridges i Liege | Memorial of king Albert who obviously had something to do with the Albert Kanaal. | Bibbi in Port de yachts Liege |
July 11th
We started the day with some works onboard, like draining and cleaning the engineroom as I found there was a bin for used oil in the harbour.
Finished with that we started the days trip and soon got to the first lock. There we had to wait two hours to get into the lock, and in that lock four pleasureboats tried to fit in between one very long barge and one very broad.
We, the pleasureboats, had some trouble, as did at least one of the barges.
When we finally got out of that lock we had a nice trip to the next one which was much more relaxed and with only one quite small barge and two pleasureboats. It was a simple operation.
From here we continued to the next little town, Huy, where the harbourmaster greeted us and pointed out a nice place to moor.
BVy then it was almost time for dinner and when that was finished we had a beer by the club-house whatching the sun going down.
By then it was almost time for dinner and when thatr was finished we had a beer at the veranda of the club-house, whatching the sun go down.
Very nice indeed!
| | | | |
| --- | --- | --- | --- |
| | | | |
| Very tight in the lock of Lanaye | One of the many bridges i Liege | Memorial of king Albert who obviously had something to do with the Albert Kanaal. | Bibbi in Port de yachts Liege |
July 12th
This was another hot day. 35C + in the boat during the trip! And guess what - When we had finished the last lock and were about to moore in the Port d'Ámee in Namur it started rain heavily!
We got a bit wet but so what!
When mooring was finished it stopped raining and everything was OK again.
It was a nice trip this day and we were lucky with the locks, no waiting at all.
We had planned to stay in central Namur. We fuelled up there but unfortunately they had no free place for us, so we continued a short down to the Port d'Amee just through another lock.
And that was rather fascinating!
First of all the lockkeeper kept telling us not to moor in the stairs. That's the way we've moored in most locks in Sweden, Germany, Netherlands and Belgium a hundred times before.
And furthermore there was a filmteam by the lock. A cameraman, a soundman and a man being filmed and talking french all the time.
At one time they got close to our boat and the talking man said something about his knowledge about European geography was not so good when he pointed at our Swedish flag. I told him that our flag was Swedish and then he asked me a lot in French which I did not understand, so they cointinued to another boat in the lock.
All this filming took a long time, and we had to wait quite a while for the actual locking.
Finally we got through the lock and moored at the next bridge, less then 15 minutes later.
First we relax a few minutes and after that we walked to find a shop and some food.

| | | | |
| --- | --- | --- | --- |
| | | | |
| Beautiful morning in Huy | A fantastic house by Meuse (Maas) | Amazing rocks by the Meuse. | A film team talking to Bosse in the Plante lock |
July 13th
It was rather caold all day, with drizzle in the air mixed with real rainshowers. It has acutally been the first day of this trip without sun at any time eventhough we had some moments with lighter skies.
But the crue of Bibbi II is used to rainy days on the sea and on canals so we went on. We passed six locks during the day and we only had to wait at one of them.
In that lock a barge first came down, then went up again and finally came down to our niveau again, left the lock to let us in.
In this lock we also had to show our permit for passing on the canals in the Wallonia for the first time!
Despite the rain and the drizzle we had a nice day on the canal.
Most of the time we had more or less opened and we could see the landscape by the river/canal. Very beautiful indeed.
Maybe the pictures we took would have been better had the sun been shining, but we still have memories for the rest of our lives. The Meuse is very beautiful and we are very pleased to have been here.
We had planned to stay in the town Dinant, but only found moorings along the river, so we decided to continue. And just one bend of the river later we found this Yacht Club Anseremmme with a calm harbour in an riverinlet that suited us fine.
Here we got a nice and calm evening.
| | | | | |
| --- | --- | --- | --- | --- |
| | | | | |
| Nice hill-top restaurant | Ingrid secures the boat in one of the six locks | Downstreams near Dinant we found a hidden castle | The castel and the cathedral in Dinant | Charming houses and views when we leave Dinant |
July 14th
A fantastic day on the canal.
This part of Meuse/Maas is exceptionally beautiful and very variable. From pure natural beauty and small rural villages to enormously grand castles with acompanying, formerly, prospering villages.
But the weather was, well rapidly changing every once in a while. Warm, yes and rain whenever you didn't want it.
We were very well welcomed when we entered France in the lock "les Quatre Cheminées". The lockkeeper asked us how long we were going to stay on the French canals and I answered:
- Going down to Givet today and stay they over nigt. Going back from Givet to Belgium tomorrow. He asked:
Are you here to celebrate our national holiday?
- Of course! I answered.
- Well, for you monsieur, it is free! But promise not to tell anyone.
Then he showed me the pricelist. One day about 10 euro and two days about 20!
So, we sailed down to Givet and with help from a local person we found a place that noone else wants to use. The place itself is OK, but there is a lot of seegrass floating, but I said OK and sailed into it.
Will have to check the filter for the engine cooling water when we've left this place.
When moored and ready I walked to the club house and payed and the guy there told that we were welcome to the clubhouse at 6 in the evening for a drink, and that we must not miss the boat-parade at 10 o'clock and the fireworks at 11 o'clock!
The French certainly celebrate their national holiday in style!
Well we had a nice afternoon and evening. At the party in the clubhouse we met the Swedish couple in a sailingboat from Stockholm that we had overtaken twice in the German Mittellandskanal, and seen moored in a couple of harbours but never really met.
Nice to have a couple to talk to in this only Frenchspeaking party. We exchanged esperiencies and, I think, mutually enjoyed the company.
After this party we returned to Bibbi and had dinner, while the national French holiday celebrations started for real.
Amazingly with loud English and American pop-music from the late 60:ies and early 70:ies, much in my taste, from a party-area on the other bank of Meuse.
The celebrations continued until very late with a boatparade on Meuse, fireworks, music and a lot of people around.
The fireworks were really amazing!

| | | | |
| --- | --- | --- | --- |
| | | | |
| The Freÿ castle by the Meuse | The cable-ferry for pedastrians in Waulsort | The last lock in Belgium | The first - and only - lock i France |
The celebration of the French national day in the club house
Celebration of the national holiday - boatparade on Meuse and fireworks.
July 15th
We spent the morning shopping in Givet. First at the superstore at the Place de la Republic, and after that in the city center on the other side of the Meuse.
Here we found cognac and and a bottle of red wine for dinner tonight.
The market in town was rather big but I think we saw the most of it.
We finished with a glas of wine in a café next to the town hall.
We left Givet rather late but we had planned to go to Anseremmme. This trip took us only a couple of hours but there were only a very few places left for guesting boats when we arrived.
The afternoon was very lazy, a beer in the clubhouse, sleeping, managing pictures and a short walk in the area.
I found a very interesting old abbey, must find out more about that.
After dinner we had another beer in the club house and that was just about it for the day.

| | | | |
| --- | --- | --- | --- |
| | | | |
| Nice view on the Meuse | The first lock in Belgium at Hastiere | Once again we were amazed by the Freÿr castle. | The road is running along the Meuse, but the railroad runs through a tunnel here. |
July 16th
In the morning we were told by the local people that today and tomorrow it would rain. And that rain is desperaty needed! The waterlevel of Meuse is so low that the barges can't sail with full cargo.
But we were lucky.
We sailed away after breakfast. Experienced a few raindrops during the day. But when dinner was finished, rather late in the evening, then the real rain came falling down heavily!
Hope we will be that lucky tomorrow too . . .
We celebrated our return to Namur with a glass of wine and some cheese.
With that done Ingrid had a shower while I walked to the small supermarket nearby to get what was missing in the fridge.
After that we celebrated with a three course dinner.
By then the rain had started and it was a really heavy rain that lasted at least as long as we were awake.

| | | | |
| --- | --- | --- | --- |
| | | | |
| An old castel on the top | Waiting at a lock | A two-story road, and nice houses overlooking the Meuse | Waiting at a lock |
July 17th
We had been told that it would rain today, but we were lucky. We had some showers, but for a change they all came between the locks and they were very few.
I noticed in the morning that it was more water in Meuse than during the previous days. I estimated thet raise to about 5 centimeters.
We started with one lock and fuelling up i Namur and then turned off from Meuse and entered the canalized Sambre.
Sambre is notably smaller than Meuse and just as nice, apart from the section through Charlesroi. We couldn't see a thing of the town centre. The surroundings are all industrial areas, many of them deserted, while the rest did not appear to be very prospourous. There is one lock in the city center and it is located in the midst of a busy ironworks!
But as soon as we left Charlesroi we found Sambre as beautiful and nice as it was on the other side of Charlesroi. But by then it was rather late and the locks closes at 6 on Sundays so we had to stop.
We found a mooringplace downstreams the lock at Gosselies.

| | | | |
| --- | --- | --- | --- |
| | | | |
| A beautiful part of the Sambre | A nice old house by the canal | One of the many locks we passed today | The lock Marchienne au Pont, in the centre of Charlesroi, was enclosed within a busy ironworks! |
July 18th
Today we started at least one hour earlier then usual and it took us less than an hour to pass todays two locks. Very easy indeed.
The trip was very nice with beasutiful views all the time and we easily found the harbour in the branche de Bellcourt. But we were a bit pussled when entering the harbour. Nowhere the name Bellcourt was mentioned, only Seneffe. And Seneffe was the harbour in the next branche of the canal.
We spent the day in the boat most of the time, but I cycled away to the nearest village to get chips for Ingrid and peanuts for myself. I happened to find a bottle of wine too :-)
But the ride on the bicycle was tough so I'm not sure I'll do that again. We'll see.
In the afternoon and evening there were some rainshowers, some of them rather heavy. But they were short, so we did not have to wait long for a chance to walk around a while.
After dinner the harbourmaster showed up and I visited the clubhouse to pay. Also paid for use of the washingmachine and the dryer, so late Ingrid started the washing. The machines "worked" a rather long time when we really wanted to go to bed.
| | | | |
| --- | --- | --- | --- |
| | | | |
| Ingrid enjoyed the easy locking at Gossellies | Nice view between todays two locks | The canal towards north-west from our harbor | Bibbi in the harbour with the club-house in the background |
July 19th
Today we did not start at all!
We stayed in Seneffe all day, getting SMS-messages from our son Robert that he and his family had left Sweden, had come to Germany and having somewhere south of Bremen.
Ingrid washed clothes in the clubhouse and I cycled to the shop twice before lunch!
After lunch I cycled in the opposite direction and what I saw was a nice strecth of the canal and some rather big industries. On the way back to the boat it started to rain. At first a light drizzle, but soon heavyly. So I stopped under a tree for shelter. But soon the tree didn't giva shelter any more, so I had to continue to the sailing school where I found real good shelter and I could see our boat across the water, but I had to wait long to be able to get 'home' again.
It rained all afternoon and evening, more or less heavy, but it was cosy onboard.

| | | | |
| --- | --- | --- | --- |
| | | | |
| This pair of geese has harassed us ever since we came into the harbour. Screaming, SCREAMing and SCREAMING! | The water in the canal steams this warm morning | There is an old drydock in the inner part of the harbour | Canoe-polo? Saw it in the harbour this evening. Never seen anything like it before. |
July 20th
This day was a day of waiting for our son Robert to come with wife and daughter. We did not expect them to come until in the evening so we had the day "off".
Ingrid tended with the clothes she washed and had not dried yet. I cycled off to Godarville for shopping. Today I brought the camera so now I can remember what it looks like.
After lunch I tested the other cycle with a tour along the canal branch we are moored in. I read that it is the old canal from the first half of the 19th century. So it was interesting.
When I got back to the boat it was very hot, but soon I saw the black clouds coming and fairly soon it started to rain. Quite heavily, but it did't last more than an hour.
At about 4 o'clock our son Robert with wife Ingrid and daughter Hedda arrived. About two hours earlier than expected!
We were very pleased to see them. It's been such a long time since we saw them, and it is especially hard not to see your grandchildren in such a long time a French woman told me. She and her husband came to the harbour today, and were now heading home - only because she had to see her grandchildren soooon!
So we had a nice evening together. Chatting, discussing, eating and so on.

| | | |
| --- | --- | --- |
| | | |
| Rural view from the road between our harbour and the village Godarvilage | My favorite little shop o Godarville. They have everything you really need. If not today, then tomorrow! | Our grand-child Hedda has come to visit us for a few days. |
July 21st
We made a day-long trip on two canals and returned to our base at Seneffe in the afternoon. Our aim was to go The Historic Central Canal flrst and then turn to the New Central Canal and return to Senereffe.
We easily found the Historic canal coming on the Charlesroi to Bruxelles Canal and turned on to it. But at the first lock, a ships-lift, it was total stop. No mention of a VHF channel, no phonenumber to call, and noone to ask.
So we turned around and went to the New Central Canal instead.
Soon we reached that canals first landmark, the safetybarrier. And soon enough we got to the famous lift at Strépy-Thieu. I called the lift on the VHF and got the message that we had to wait an hour to come into the lift.
Nothing to do about that, but we had a quick lunch and when that was finished it was time to get into the lift.
This lift is a spectacular construction with an impressing design. Seen widely around.
Accordning we had the old canal was recently opened for traffic again after beeing closed several years ago due to an accident. But we were not told that is was so hard to find coming from the east on the new Central canal!
So we sailed far too long, but at the first lock, we realized we've come to far and turned back.
Really close to the new lift there was a sign turning right: The hictoric Canal, pointing into a small hole through the canal sidewall. There was also a sign telling the VHF channel to use to get in touch with the lockkeeper.
So I made one call and waited a long time. No answer. Then another call and still no answer.
Finally we moored by the entrance and I walked to the lockkeepers "hut". So I jumped ashore and walk up to the lockkeepers hut, and then he showed up!
I made clear that we wanted to go through the whole canal and he said it was OK.
So I went back to Bibbi and sailed into the lock and soon after us there was another boat entering the lock.
The other boat was aiming at a yachtharbour next to the lock, so we alone continued the trip though the olg canal.
After passing a couple of ship-lifts from the early 19th century we were joined by a sightseeingboat for the last part of the canal.
This old canal was/is very beautiful and is well worth the effort to get into it.
When finished with the Historical canal we returned to the SNEF harbour in the Branche Beaucourt and spent a lazy evening there.
Today we only got a few drops of rain. And they came when all but one off the crew was already sleeping!

| | | | |
| --- | --- | --- | --- |
| | | | |
| The fourth lift of the old central canal in the morning. Closed, no information. | The new lift och the new central canal. Impressing. | The first lift of the old canal in the afternoon. Open and impressing. | We all admire the old technics |
July 22nd
We all got up early this morning, packed our things and entered Robert and Ingrids car and headed for Reims.
The GPS was set to choose nice roads, which they were, but at times a bit to small, so we soon change to "the best roads".
This took us on nice roads, avoiding motorways to Reims in a reasonably short time.
We stopped in the old town Rocroi for lunch, and found the town very nice. It still has the old townwalls complete, but there was no water in the graves around.
Soon we continued and found ourselves in the centre of Reims. Parked the car and walked off to the touristoffice. They help us book a hotel nearby. Thet touristoffice was very close to the famous cathedral Notre Dame. I could not resist the tempetation to look into it.
We walked to the hotel and found it OK, if not first class.
While Ingrid and Hedda had a nap at the hotel, Robert and Ingrid walked away to bring the car and walked to the Canal de l'Aisne a la Marne and I found a guest harbour in close to the city center, a few hundred meters from our hotel.
When we all were gathered at the hotel again it was late afternoon and we went out to get something to eat.
But first we looked into a shop that sold wine. We bought some bottles of champagne there. The salesman said it was very good and it was only sold through selected shops and restaurants.
With buying these bottles the main mission with this trip was fulfilled. We have come to Champagne, and we have bought champagne!
When I hade brought the bottles to the hotel, we searched for a nice restaurant to have dinner.
That was not easy. Most restaurants open for dinner at 9 in the evening, and now it was only 6! But we found a nice restaurant that opened the kitchen at 7, so we had a beer and chetted along until 7.
After dinner we went back to the hotel for a good nights rest.

| | | | |
| --- | --- | --- | --- |
| | | | |
| We stopped for lunch in the town Rocroi. | Impressive glasswindows in the Nodre Dame in Reims. | The little garden in the hotel. | The guestharbour on the Canal de l'Aisne a la Marne in Reims. |
July 23rd
The breafast at the hotel was great compared with what we are used to at French hotels! Plenty of different breads, eggs, yoghurt and marmelades.
After breakfast we went out on a shoppingtour. Hedda needed shoes and her mother had found a couple of shoes suitable for her at very reasonable prices.
This was finished rapidly and we got on to the main issue of this trip: rolling off to the vineyards!
It took a while to find the first winefields and then the first wineyard where we stopped with the aim to maybe taste and buy - but no! They did not sell! Only showing the factory and selling other things. But we bought vinegrette-sauce and some small things and continued our tour through the region.
Where we found an amazing forest of trees, a small village without restaurant when we wanted lunch, and finally a superb restaurant in a small town.
Here our granddaugther Hedda, 9 months old, tested a drop of champagne - and disliked it!
She was also served carbonated water - and disliked that too!
When we left the restaurant it started to rain, which continued until we reached the Belgian border.
From here the route was back to the boat in Seneffe. But we also had to buy food for the weekend, so we were concentrated on finding a supermarket. Which we did in the outskirts of Reims.
This was a big one! So while Hedda and her mother sleept in the car, Robert, Ingrid and I went shopping.
Here we found all we wanted. It was actually hard to get through the shop as it was so big. But we found want we really needed, such as food for the weekend, some beer for Robert and another box of champagne at bargain-price!
The rest of the trip was actually rather boring. One highlight, though, was when we saw the famous shipslift on the New Central Canal that we passed through with Bibbi the other day. Now we saw it at a distance and it is really amazing!
Back on Bibbi we had dinner, and after that Robert run off along the canal while I helped a neighbouring boat with the net-connection.
When we both were back it was time to test a bottle of champagne and thus complete the day.
We were all pleased with the champagne and with this two-day tour.

| | | | |
| --- | --- | --- | --- |
| | | | |
| The tiny garden of our hotel seen from the room. | In Champagne wine is growing everywhere! | We saw the forest of odd trees. | Little Hedda tested carbonated water at lunch |
July 24th
It was time for Robert, Ingrid and Hedda to turn back home. They wanted to start early and not be forced to hurry on their way, so they left directly after breakfast.
Ingrid and I spent the day mostly onboard with reading, writing, crosswords, cleaning up and so on. It was actually a lazy day.
During the day and evening we recieved several SMS-messages from both Robert och Anders. Robert on his way back home, and Anders on his way to visit us.
When we go to bed we are still uncertain about were they are.
The weather has been changing rapidly all day. Changing from cold to warm, from windy to calm in all possible combinations. We had a few drops of rain too, but very few.

Hybrid boat in the harbour.

Ingrid says: Goodbye Hedda!
Hedda says: Uuuh!
July 25th
A day of waiting for Anders and Linda. They had spent the night in Gremersdorf in northern Germany and started the trip to us early. Estimated time of arrival about 4 o'clock so we had a day off.
Ingrid spent the day cleaning up the boat and preparing for our guests.
I spent the day fixing missing parts of the logbook and cycling around, but also picking blackberries, and cycle to the shop in Goderville.
They did not arrive at 4 o'clock, because they stopped a couple of times to eat and for fueling.
They arrived at about 6 and we greeted them welcome with a glass of champagne.
After that it was immediately time for dinner.
We spent the evening chatting about ours and theirs experiencies of the summar so far and had a good time all evening until it was very late.

| | | |
| --- | --- | --- |
| | | |
| The British narrowboat leaves our harbour. | The Canal Charlesroi - Brussel | The sailing-school in our harbour |
July 26th
Another day of departure. Ingrid left Seneffe in Anders car and I, Anders and Linda left in Bibbi II.BR> Our first goal was the inclined plane at Ronquières and the second Bruxelles Royal Yacht Club.
The inclined plane was a piece of cake. 1 432 meters run in a basing that was lowered 70 meters during the run! Amazing! And Ingrid whatched from the visitors centre.
From here on it was an easy ride too. Seven locks with no or short waiting. The only obstacle was the lockkeeper at Anderlecht were we left Wallonia and entered Flandre. He was not fast fixing the requiered permit!
When we reached the BRYC harbour Ingrid was already there and guided us to a nice mooring place.
She was evidently very pleased to see us, so she treated us to dinner in the club house restaurant.

Getting close to the lift

Bibbi in the lift seen from the visitors centre

In the middel of the slope

Ingrid enjoys Heineken Pis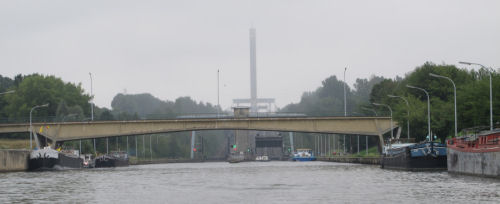 Leaving Ronquières
July 27th
This morning I once again saw Russion boater Viktor that we had previously seen on the Mittelland Kanal in Germany.
Read more about him here.
We stayed all day in Brussels to see the town. And this was the first day for weeks that we did not get a drop of rain during the whole day!
Took the tram into town which was a nice experience.
Started with a visit at Grand-Place were we had a beer. Then, of course, we had to see Maniken Pis.
We continued to stroll around the Grand-Place looking into some shops and to see interesting buildings until it was time for lunch, which we had at Grand-Place.
Then we split up. Ingrid, Linda and Anders went shopping, while I went to try and find an old favourite pub, A la Mort Sobite. I had a hard time. I had a cross on the map were it should bee, but coundn't find it.
Asked around again and got another cross on the map and got closer, but it was not until I chosed to give up, that I saw the neon sign on the wall: A la Mort Subite!
I found a chair on the pavement and ordered a beer and was really pleased. I looked into the pub too. It looked a lot like what it was in the early 1990:ies when I was there last, but in the nice weather I preferred to sit outdoors.
When I left I bought one glas with "Mort Sobite" on it and was very pleased, indeed.
Finally it was time to get back to Grand-Place for reunion and to eat Belgian wafels, which marked the end of the sightseeing/shopping for the day.
After this we took the tram back to the harbour, where we were lazy an hour or two before dinner, and didn't get to bed until late - as usual!

Sunrise in our harbour.

The "electric" boat side by side with Bibbi II

Russian Viktor in our harbour.
Read more about him here.

Ingrid enjoys Heineken Pis
July 28th
We had a very different day on the canals.
We aimed for Antwerp, but Ingrid, scouting in the car, could not find the harbour and the traffic in Antwerp was so hard and difficult that she drove longer in that town, then all the way there from Brussels.
But when we in the boat saw Brussels from the Schelde it seemed very nice, and it would have been very easy for us to find the harbour.
Our trouble was to keep pace with all the barges! There was not much traffic on the canal in Brussels. But the closer we came to the Wintam Sealock the more barges, in all directions. When we entered the Zee-Schelde it got even worse.
We had a two-hour run on the Zee-Schelde to reach the Royersluis and we had to wait close to an hour to get in to the Antwerp commercial harbour and thus get out of the tidal waters. To get through that harbour and reach Bergen-Op-Zoom took us another two hours and we did not arrive until about 9 in the evening.
But it was a nice day too. Warm and no wind or rain.
The canals we passed through were very different. Small and cosy at places, wide and open at others. Many barges at places and few at others. We passed some nice small villages and one real big city, and of course some not so nice industrial areas. And Zee-Schelde showed us the powers of tidal waters by "stealing" a few knots speed from us as we went downstreams!

| | |
| --- | --- |
| | |
| One of many bridges that were lifted for us | After leaving the sea-lock of Wintam the big barges hurried downstreamns. We could not keep pace with them. |
July 29th
Another lazy day . . .
In the morning Anders and Linda left us to start their trip back home. It was sad, but necessary.
Ingrid and I spent the day reading and writing. I also cycled into town to get some food för the weekend. It was easy to find the way into town, but not easy to find the supermarket! A kind local person helped me.
When going back to the boat I got lost! But I soon found the right way "home".
After a couple of hours of reading and writing it was time for dinner.
But the stove refused to start!
I tried a few things to start it but nothing helped.
Finally I started the engine to get more electricity. That helped, which shows that I have to buy new batteries. Must do that as soon as possible.

| | | | |
| --- | --- | --- | --- |
| | | | |
| Pictures from our harbour | | | Saying good bye to Anders and Linda |
July 30th
Anohter fine day at the canals today. Sailing along slowly and passed the worst part of the deltas of the Dutch great rivers, Amer and Maas. But we still have to cross one part of the Maas delta to come to Amsterdam.
We were very lucky to pass here on a Saturday with much less professional traffic then on ordinary days. Most probably we will be able to leave this busy area tomorrow, on Sunday, with even less commercial traffic to disturb us.
Having several options, we choosed to stop in Dordrecht. A great choise! Wonderful old city, and the harbour we choosed was in the middle of the old town. Five minutes walk from the town hall surrounded by pubs and restaurants and a lot of shops of all kind.
Sure, the shops were all closed when we arrived this Saturday afternoon, but the pubs and the restaurants were open. So, on our afternoon walk we just happened to stop and have a beer at the pub next to the town hall.
We had dinner on board and relaxed during the evening.

| | | | |
| --- | --- | --- | --- |
| | | | |
| "A lot of ships . . ." | Bibbi II in Martinsgatsharbour i Dordrecht | Between some of the old houses are spaces for cycles, or whatever . . . | Townhall |
July 31st
No rain today and quite a few sunny hours. But the weather was changing all the time. If it was cold and you put the sweater on it didn't last more than two minutes and it was too hot for the sweater. So sweater off and it didn't last more than two minutes to be too cold.
These frequent changes of temperature continued all day.
The trip was nice and from the start we got help from the tadal stream which gave us about two knots extra speed until we turned into Hollands IJssel in the outskirts och Rotterdam.
From there on it was nromal speed, or just below, depending on which boat that headed our convoy.
Today there were a lot of pleasureboats out and because of all those bridges that had to be lifted for us we had nothing to gain from overtaking and go on faster than the others. The only result would have been more waiting for bridgeopenings. But soon we were a group of three or four motorboats following each others most of the day.
The sailingboats along this canal had a hard time. There were a couple of bridges where they had to wait for opening. We saw doussins of sailingboats waiting, some of them must have waited several hours.
Ingrid really wanted to stop at Gouda to be able to buy some cheese there on Monday morning. But in the Gouda lock, and after seeing the guestharbour that we passed, she admitted me to continue the trip.
But we stopped in Alphen aan de Rijn which is about half way between Dordecht and Amsterdam, which means that we should be able to reach Amsterdam tomorrow.
Anyway, the harbour in Alphen aan de Rijn is rather cosy, with a small bridge that has to be opened for every boat passing in or out. There are fairly new houses all around the harbour and a nice park nearby. But no shops in the vicinity as we could see.
| | | | |
| --- | --- | --- | --- |
| | | | |
| "A boatowner's dreamhouse?" | A windmill by the Hollands IJssel | In the lock of Gouda, yes the cheese-town! | The entrance to a small side-canal. |
&nbsp
---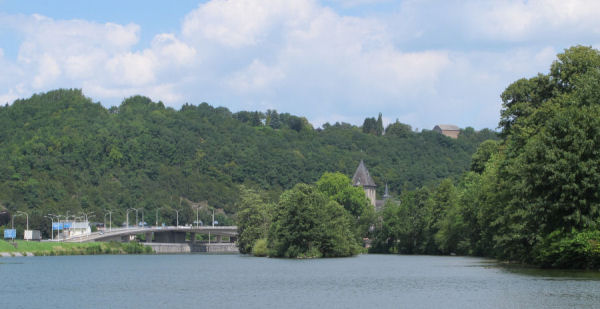 Between Hastiére and Anseremme.
This picture was shot at July 15th 2011 when cruising downstream on the Meuse.

&nbsp